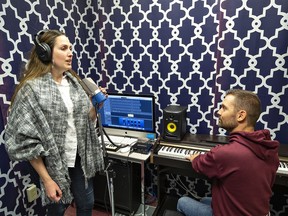 Article content
Instrumental and vocal music students at Assumption College are upbeat about new capabilities in the Brantford high school's music program.
Article content
The music room now features six microphones hanging above the concert band area, while two recording booths have been set up: one for piano or a solo instrument, and one for solos and duets.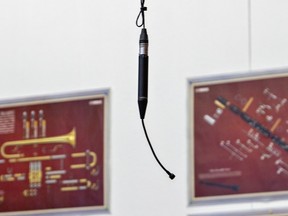 Computers, software and semi-circular pop filters round out the new gear.
"We're trying to bring it up to professional standards because, honestly, it's not good enough just to be able to be a good singer or player," said music teacher Naomi Ratelband. "You need to market yourself. So, we're helping students to create their own audio portfolio, as well as be constructive and critical of themselves."
Recording a concert band number or as a soloist, students learn to become better listeners, and can more easily spot areas that need to be corrected or reassessed.
Article content
"To give them an opportunity to record using professional equipment and then hear themselves makes them better performers," said instrumental music teacher Steve Glowala. "We can offer them the ability to record in 4K and really good audio, to give them a starting point, to plant some seeds for students who want to continue that for a future career."
Ratelband said that a student wanting to pursue post-secondary education in faraway locations needs to be able to send a recording.
"This would allow them the opportunity to give an understanding of who they are as a singer or player."
Ratelband said that the switch to virtual learning during the pandemic was particularly challenging for music students.
"We saw the holes and saw that we were not equipped to create and connect with others through the medium of playing online together over Wi-Fi that's spotty."
Article content
Now that students are back to performing in class, Ratelband said it became apparent that the tech side of things was lacking.
"I think we are so far behind of where we could be with the arts in 2023. This is just the beginning."
She took a course at Metalworks Studios in Mississauga – where music greats such as David Bowie, Prince, and Drake have recorded – to learn how to use ProTools, the software that professionals use, so that her students could become versed at using it.
"It's a great opportunity for kids to be able to reach ahead and do things in the industry," Glowala said. "It gives our students an experience here to get them inspired and interested."
He said most of his students enjoy working together in music class.
"The community here is what makes this room special," Glowala noted.
"I know a lot of students leave this room mentally well. This is their safety. Their happy place."