Reviews and recommendations are unbiased and products are independently selected. Postmedia may earn an affiliate commission from purchases made through links on this page.
Article content
Few bands would be bold enough three decades into their career to play a set primarily composed of songs from their newest album. But Tool has never been much for conventions, and its 12-song set at Rogers Place Wednesday night included six from 2019's Fear Inoculum, while almost entirely ignoring hits from its back catalogue.
Frontman Maynard James Keenan came out dressed sharp, sporting his now-trademark mohawk, but it was clear he would not be the star of Wednesday's show. The imposing musicianship of drummer Danny Carey, bassist Justin Chancellor and guitarist Adam Jones was on full display in the newer songs, some sailing well past 10 minutes in length with sparse vocals. Keenan crouched and lurked on either side of the drum risers on the back half of the stage, sometimes drumming along on his thighs, other times fully leaving the stage during long instrumental breaks.
Article content
The haunting atmosphere and thick polyrhythmic grooves that define Tool's sound were accompanied by mezmerizing visuals that stole the focus from the band members themselves, starting out looking like a 2000s PC screensaver and progressing like an unsettling acid trip into alien faces and disturbing humanoid figures looming over the stage. And lasers. So many lasers. Towards the end of The Grudge – the only track from 2001's Lateralus they performed – the house lights blasted back on, sending the crowd into a frenzy before Keenan tore into chants of "Let go, let go, let go."
Related Stories
Doobie Brothers shuffle vast catalogue for Edmonton fans new and old

The Rural Alberta Advantage set to be the Heritage Classic Battle of Alberta's house band
A 10-minute intermission followed, gracefully allowing the elder millennials to leave their seats for another round of $15 beers before Carey, walking with a limp – surprising to see, given the 62-year-old's dizzying footwork on the kick drum – welcomed them back with a song called Chocolate Chip Trip that's essentially a five-minute drum solo. The rest of the band rejoined for a subdued performance of Culling Voices, sitting in chairs at the front of the stage like an MTV Unplugged set while confetti rained from the rafters. This was a highlight of the night before the heaviness ramped back up into its most metal moment, with the breakdown towards the end of Invincible prompting an enthusiastic show of devil horns.
Article content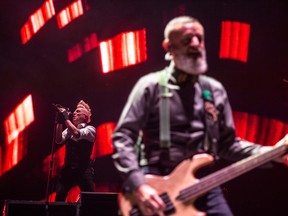 While the dearth of classics in a set that ran over two hours surely disappointed some, the undying loyalty of the core fans gives Tool the freedom to essentially do whatever the hell they want at this point in their career. Tool is much more than a band to the diehards, evidenced by countless online threads and lengthy essays from listeners searching for hidden Easter eggs in the album packaging, backmasking, song sequencing or wherever they might be able to find a deeper meaning.
One of the few bands left standing from the early-90s era when every major record label was scrambling to find the "next Nirvana," Tool occupies a unique niche in heavy music, sitting somewhere between the contrasting worlds of alternative metal and progressive rock – much more sophisticated than KoRn, but far less nerdy than Rush, with a spiritual element that seems to connect with listeners on a deeply personal level. In the current environment where bands are pressured to drop constant singles for streaming services, Tool has only released three albums this century with hardly a whiff given to commercial appeal, yet all three have landed at No. 1 on the Billboard charts.
Article content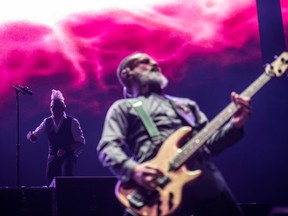 Throwing nostalgia-seekers a bone before the night's end, the band rescinded the evening's strict "no phones" policy for closer Stinkfist, from 1996's Aenima. Rogers Place swiftly became a sea of flashing smartphones, and Keenan, patience seemingly tested, implored a fan partway through the song to "turn the fucking light off." Oddly, the one song fans were allowed to film was the only time Keenan's vocals disappointed, his chorus drowned in effects and coming out limp, falling short of the song's original power. It was fitting, in a way – perhaps, confirmation that the band is simply not comfortable looking backwards.
Opener Steel Beans attempted the impossible, captivating an arena as a one-man band. Sporting a flashy outfit including a red cape and feathered hat, Jeremy DeBardi sat on his drum stool playing keys, ripping guitar solos and belting out powerful falsettos while drumming along the entire time, with a look and sound straight out of the 1970s. DeBardi has a commanding presence, and at times his banter made the show feel more like a comedy act. While this would absolutely kill in a club-size venue, by the end of the half-hour set it felt like he was starting to lose his pull on the sprawling crowd.
Tool w/ Steel Beans
When: Wednesday, October 25
Where: Rogers Place